Category:Yakovlev Yak-24
Jump to navigation
Jump to search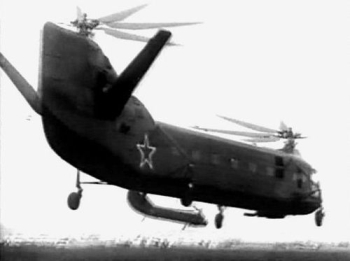 The Yakovlev Yak-24 was a twin engine, tandem rotor transport helicopter developed in the USSR to transport up to 24 men. Despite several world record, its use was hampered by unsolved problems like strong vibrations in the airframe. Despite a first flight in summer 1952 and being pressed into service in 1955, it was quickly phased out when more potent helicopter were developped.
Nearly a hundred Yakovlev Yak-24 have been built.
This page lists all films that feature a variation of the Yakovlev Yak-24.
See also
Pages in category "Yakovlev Yak-24"
The following 3 pages are in this category, out of 3 total.