Chuunibyou demo koi ga shitai!
Jump to navigation
Jump to search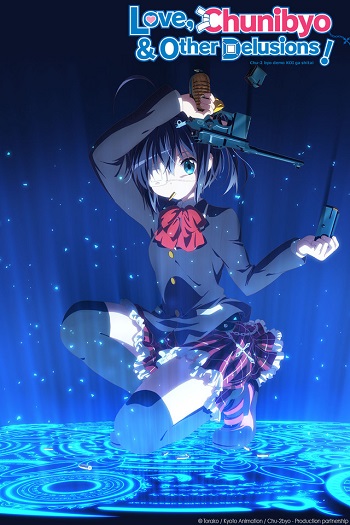 Animated Series (2012-2014)
Japanese title: 中二病でも恋がしたい!
English title: Love, Chunibyo & Other Delusions
Starring:
Jun Fukuyama (Yūta Togashi)
Maaya Uchida (Rikka Takanashi)
Chinatsu Akasaki (Shinka Nibutani)
Azumi Asakura (Kumin Tsuyuri)

After recovering from adolescent delusions, Yuta transfers schools to begin anew. As he tastes the succulent fruit of normalcy, Rikka Takanashi discovers Yuta's delusional past and declares that they are soul mates, which makes things anything but normal.
Also from this series:

Eiga Chuunibyou demo koi ga shitai! Take On Me
Note: This is an animated film. The aircraft shown in it are therefore not actual aircraft, however, where a reasonable depiction of an actual aircraft has been created, it has been identified as best as possible.
Yuta's posters
Appear in Yuta's room during both seasons.
Loosely based on the shape of North American X-15A-2 ?
Season 1
Ep. 1.06 The Atoned... Innocent
Season 2
Ep. 2.05 The Illusive... Siesta Labyrinth
Ep. 2.09 Resort - Last Resort

Back To:

See also