Das Erbe der Guldenburgs
Jump to navigation
Jump to search
TV Series (1987-1990)

Starring:
Christiane Hörbiger (Christine von Guldenburg - 40 épisodes/1987–1990)
Wilfried Baasner (Achim Lauritzen - 39 épisodes/1987–1990)
Iris Berben (Evelyn Lauritzen - 37 épisodes/1987–1990)
Katharina Böhm (Susanne von Guldenburg - 36 épisodes/1987–1990)
Susanne Uhlen (Kitty Balbeck - 36 épisodes/1987–1990)
Friedrich Schütter (Kurt Kröger - 36 épisodes/1987–1990)

The series is based on the aristocratic Guldenburg family and deals with their various relationships and problems. They live outside Hamburg at Castle Guldenburg, which is set on a large farm that's also the site of the family's brewery, their chief income source. A Hamburg family, the Balbecks, are the rival beer-brewers and seek to buy out the Guldenburgs; then Thomas von Guldenburg falls in love with Catherine (Kitty) Balbeck. The Guldenburgs themselves are not a unified family. Herta, the dowager Countess, never really approved of Christine, the present Countess. Christine's husband (Herta's son) has died, leaving her with two children, Susanne (Nana) and Alexander (Sacha). There are also two children from the Count's first marriage: Thomas and Evelyn. Evelyn is married to Achim Lauritzen, who works for the Balbecks and attempts to undermine the Guldenburgs. Christine is the principal heroine as she struggles to keep the family from bankruptcy--and from the Balbecks buying them out. Then yet another challenge emerges with the appearance of her dead husband's mistress Carini di Angeli and her child.
Season One
Ep.1.03 Das letzte Vermächtnis .
Registration D-IAEC, c/n 501-0203. Built in 1981. Operated as taxi by Travel Air Flug when crashed in May 1987 on approach to Lübeck, few month later after this film shot.
Bell 206 JetRanger in the background, maybe the same than the one seen below.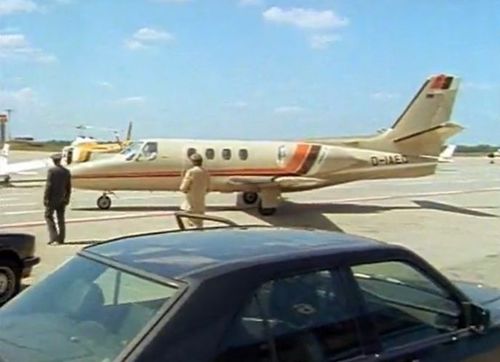 Ep.1.07 Das rote Kleid .

Ep.1.10 Die endlose Nacht .
Registration D-ABHI, c/n 20560/887. Delivered new to Lufthansa in May 1972, registered D-ABHI named Mönchengladbach. Sold to TAME - Linea Aerea del Ecuador in December 1991, registered HC-BRI. Written off in August 2004.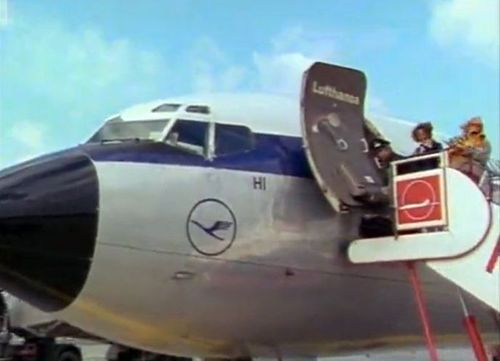 Back To:

See also