Deadly Desire
Jump to navigation
Jump to search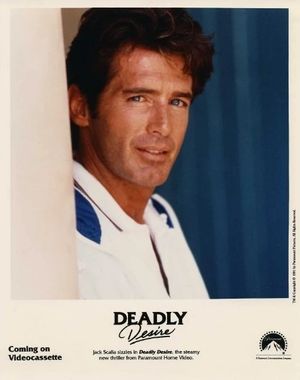 TV Movie (1991)
French title : Désir mortel

Starring:
Jack Scalia (Frank Decker)
Kathryn Harrold (Angela Menteer)
Will Patton (Giles Menteer)
Joe Santos (Gus)
Ned Bellamy (Sparrow)
Douglas Rowe (Lynch)

Ex-L.A. cop, Frank Decker, now works for a private security firm in San Diego. During the course of his job he meets the beautiful Angela who's married to a wealthy man who'll kill her if she ever leaves him. (Or so she says.) Decker falls hard for Angela and soon becomes involved in a passionate affair which culminates in murder.
Registration N50TE, c/n 86. First flight in 1976 as F-WPXJ. Sold to USA as N166FJ, then N410WW, N411WW and N50TE in March 1990, owned by Torrey Leasing Company. Scrapped after an accident while take off in December 1992 at McCall Airport, ID (MYL/KMYL).
Hughes 269 helicopter to the right and Boeing 737-200 in the background.

Back To:

See also