Diên Biên Phú
Jump to navigation
Jump to search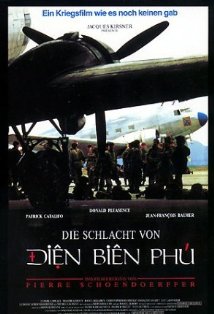 Movie (1992)

Starring:
Donald Pleasence (Howard Simpson)
Patrick Catalifo (Captain Jégu de Kerveguen)
Jean-François Balmer (L'homme de l'AFP / AFP employee)
Ludmila Mikaël (Béatrice Vergnes)
François Négret (Corporal)
Maxime Leroux (Le lieutenant d'artillerie / Artillery Lieutenant)

An American reporter finds himself in the middle of the 57-day battle of Dien Bien Phu in Vietnam between the French army and the Vietminh...
North American T-6G (s/n 51-14367) which was before modified to play a Mitsubishi A6M Zero (Empire of the Sun) and later painted to commemorate Suez Campaign.
The second one was registered F-AZHD. Same aircraft in other movies at IMPDb: Frequently Seen Aircraft.
Anachronic Il-18 on Saïgon airport. At the era (1954) the Il-18 wasn't yet built, and entered in service in Air Vietnam much later (the late 70's)

Back To:

See also