Gentlemen Marry Brunettes
Jump to navigation
Jump to search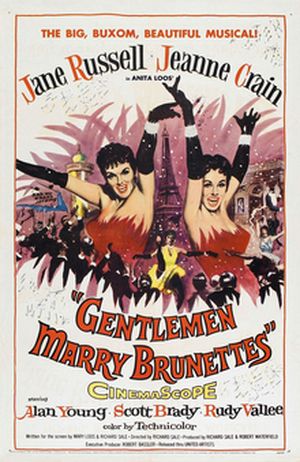 Movie (1955)

Starring:
Jane Russell (Bonnie Jones…)
Jeanne Crain (Connie Jones…)
Alan Young (Charlie Biddle…)
Scott Brady (David Action)
Rudy Vallee (Rudy Vallee)
Guy Middleton (Earl of Wickenware)

Two Broadway showgirls, who are also sisters, are sick and tired of New York, as well as getting nowhere. Quitting Broadway, the sisters decided to travel to Paris to become famous.

Unusual separation between the metal finish and the white upper part of the fuselage.
Registration F-BELS, c/n DC107/10376. Delivered new to the USAAF in August 1944, registered 42-72271. Bought by Koninklijke Luchtmacht (Royal Dutch Air Force) in 1945. Converted to DC-4A and sold to KLM in January 1946, registered PH-TBS. Bought by Skyways of London in June 1947, registered G-AJPM named Sky Freedom. Sold to Air France in April 1950, registered F-BELS. Transferred to Air Vietnam in 1953. Bought by Air India in September 1955, registered VT-DIC. Written-off in May 1962 near Haveri, India. Emergency landing off airport en route Bangalore - Bombay after engine failure.



Back To:

See also