Gunmen
Jump to navigation
Jump to search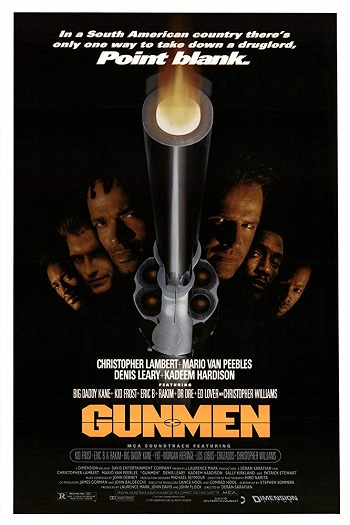 Movie (1993)
Starring:
Christopher Lambert (Dani Servigo)
Mario Van Peebles (Cole Parker)
Denis Leary (Armor O'Malley)
Patrick Stewart (Peter Loomis)

400 million dollars are hidden in a boat in some harbor in South America, hidden by Dani Servigo's brother. When his brother gets killed, Dani is a wanted man - by undercover DEA agent Cole Parker and also by Armor O'Malley, who is working for drug boss Loomis. Together, Servigo and Parker search for the boat.
Registration N87WC, c/n 45201. Same aircraft in other works at IMPDb: Frequently Seen Aircraft (Rotary-Wing).
False registration HD-GUT or HO-GUT.

Back To:

See also