Rosamunde Pilcher - Wiedersehen in Rose Abbey
Jump to navigation
Jump to search
This page needs completing!
This page has been identified as unfinished and with no recent activity. Anyone is free to work on it, new users can find more information here.
Last updated on June 2020.
TV Movie (2009)
Starring:
Anja Gräfenstein (Rosanne Brix)
Florian Fitz (Adrian Shaw)
Michael Greiling (Gordon Mortimer)
Albert Fortell (Steven Mortimer)

(Synopsis needed)
Also from this series:
Rosamunde Pilcher series
(right) Reg. G-BJCA, c/n 28-7916473 built in 1979.
Reg. G-ISAY, c/n 41014 built in 1993.
Reg. G-BHZH, c/n 1786 built in 1980.
Robin R 2160 Alpha Sport
Seems Robin R 2160 Alpha Sport registration G-OCFC c/n 374 built in 2002.
Need evidence by registration but all others British R2160 have a fine red line just bottom the glass of the sliding canopy and the white band. G-OCFC is the only one (really ?) with a grey line.
Probably G-BCMZ Reims-Cessna F172M Skyhawk c/n 1350.
Location is Bodmin - EGLA, United Kingdom.
Left to right:
Reg. G-OTUN Evektor-Aerotechnik EV97 Eurostar c/n PFA 315-13865.
Diamond DA40 Diamond Star.
Reg. G-BMFZ Reims-Cessna F152 c/n 1953 built in 1985.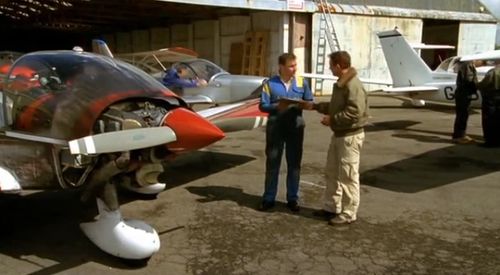 Reg. G-GAOM Robin DR400/120 Dauphin 2+2 c/n 1220. With an Aeronca 7BCM Champion (?) behind the actress.
Back To:

See also