The Departed
Jump to navigation
Jump to search
Movie (2006)
Starring:
Leonardo DiCaprio (William "Billy" Costigan Jr.)
Matt Damon (Colin Sullivan)
Jack Nicholson (Frank Costello)
Mark Wahlberg (Sean Dignam)

An undercover cop and a mole in the police attempt to identify each other while infiltrating an Irish gang in South Boston.
Dongfeng DF-2
Dongfeng DF-2 (CSS-1), China's first medium-range ballistic missile (MRBM) / 1960s. All DF-2 were retired from active duty in the 1980s.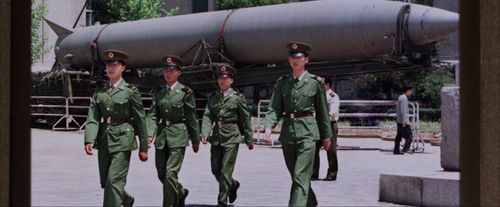 Still considering the Chinese armament, especially its missile fleet and their microchips, we can see a Lavochkin S-75 Dvina battery.
Boston Logan International Airport (BOS/KBOS)
Furthest to closest/top to bottom: Airbus A300 of FedEx Express; Boeing 757-200 of United Airlines; Boeing 737 of United Airlines; Airbus A320 family of Northwest Airlines.
Two Boeing 727s at center-left, one facing the camera and one facing away; to their right, a Boeing 757-200 of FedEx Express.
Two Boeing 727s facing the Delta hangar, the one on the right bearing the yellow livery of DHL and largely blocked by a Boeing 757-200 of FedEx Express. The tail of an unidentified Alitalia airliner is closest to the camera.

Back To:

See also