The Man Who Knew Too Much
Jump to navigation
Jump to search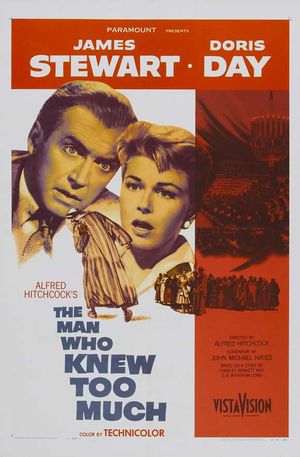 Movie (1956)
Starring:
James Stewart (Dr. Benjamin McKenna)
Doris Day (Josephine Conway McKenna)
Brenda De Banzie (Lucy Drayton)
Bernard Miles (Edward Drayton)
Ralph Truman (Inspector Buchanan)
Daniel Gélin (Louis Bernard)

A family vacationing in Morocco accidentally stumble on to an assassination plot and the conspirators are determined to prevent them from interfering.
Arrival of Benjamin and Josephine McKenna at London in a Vickers Viscount of BEA. A Convair 240 of SABENA-Société Anonyme Belge de Navigation Aérienne on the right in the foreground.
Viscount of BEA-British European Airways, in its first white/red colour scheme of the 50s.
Interesting Airspeed Ambassador of BEA-British European Airways. These aircraft entered service in 1952.
C-47 in the background. It seems to be wearing BEA colours.

Back To:

See also