Turbulence
Jump to navigation
Jump to search
Movie (1997)
French title : Turbulences à 30000 pieds

Starring:
Ray Liotta (Ryan Weaver)
Lauren Holly (Teri Halloran)
Catherine Hicks (Maggie)
Hector Elizondo (Lt. Aldo Hines)

Turbulence is a 1997 action thriller film directed by Robert Butler. It stars Ray Liotta and Lauren Holly and was distributed by Metro-Goldwyn-Mayer. After Ryan Weaver is arrested for a murder that he says he did not commit, he must be transported to Los Angeles. He and another prisoner are escorted by four air marshals on a Boeing 747 on a commercial flight. Even though it is Christmas Eve, the plane is nearly empty, with only eight people on board. During the flight, Stubbs, the other prisoner being escorted, breaks free and begins a shootout with the marshals. Amidst the chaos, both the pilot and co-pilot are killed. Weaver frees himself and attempts to save the last remaining marshal, but fails when both Stubbs and the marshal are shot dead. Because of the death of the pilots, Halloran, a stewardess, makes her way into the cockpit and learns she is the only one left capable of keeping the plane from crashing. To make matters worse, the plane is heading for a Category 6 storm. Weaver's behavior becomes increasingly erratic. Being the only hope for the plane's survival, Halloran must be instructed by radio how to land.
Boeing 747-246B of JAL-Japan Air Lines modified as fictional Trans-Con Airlines. Noted as a 200 series although there are a few inconsistencies in the movie to suggest that they used a different aircraft for filming certain scenes. For instance, the plane shown being refueled is a 747-400, yet the flight engineer manuals in the cockpit indicate a 747-200, as do shots and dialogue during the remainder of the movie.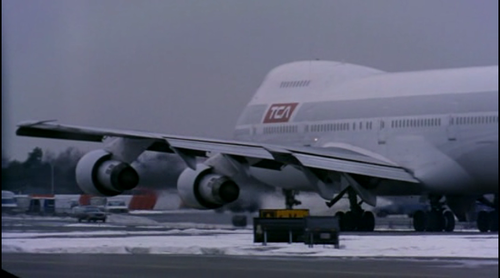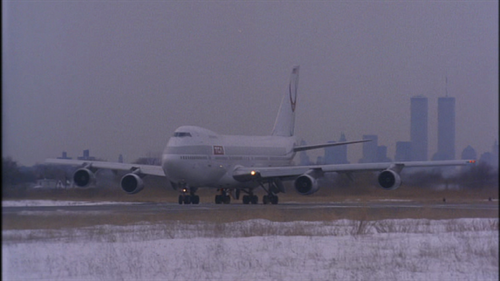 A Boeing 747-200 belonging to Tower Air is depicted in the film as offering assistance to the stricken Trans Continental airliner.
An F-14 (clearly a model aircraft) ordered to escort and if need be shoot down the stricken Trans Continental airliner.
A Boeing 747 of Northwest Airlines appears in the background of the New York scenes as the prisoners are being bought to the Trans Continental 747.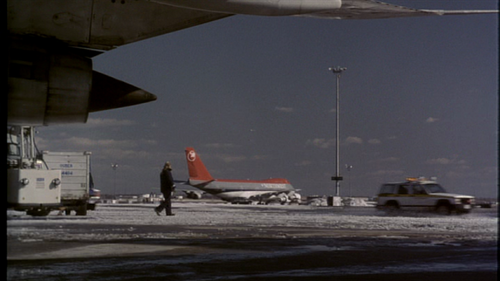 Several 747s and other unidentified airliners can be seen in this view from the control tower. An Alitalia airliner is at the gate.
Back To:

See also