Category:Beriev Be-200
Jump to navigation
Jump to search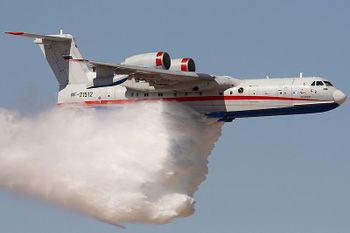 The Beriev Be-200 Altair (Russian: Бериев Бе-200) is a multipurpose amphibious aircraft designed by the Beriev Aircraft Company and manufactured by Irkut. Marketed as being designed for fire fighting, search and rescue, maritime patrol, cargo, and passenger transportation, it has a capacity of 12 tonnes (12,000 litres, 3,170 US gallons) of water, or up to 72 passengers. The name Altair was chosen after a competition amongst Beriev and Irkut staff in 2002/2003. The name Altair was chosen as it is not only the name of the alpha star in the Eagle constellation, but also because "Al" is the first part of the name of the Beriev A-40 Albatross amphibious aircraft, whose layout was the development basis for the creation of the Be-200, "ta" stands for Taganrog, and "ir" stands for Irkutsk.
This page contains all films, TV series, and video games that feature the Beriev Be-200.
See also
Pages in category "Beriev Be-200"
The following 6 pages are in this category, out of 6 total.