Category:Embraer ERJ 170/175
Jump to navigation
Jump to search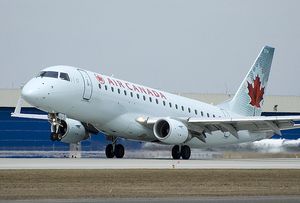 The Embraer ERJ 170/175 make up the base model aircraft of the Embraer E-Jets line. The Embraer ERJ 190/195 are stretched versions, with different engines and larger wing, horizontal stabilizer and landing gear structures. The 170 and 175 share 95% commonality, as do the 190 and 195. The two families share near 89% commonality, with identical fuselage cross-sections and avionics, featuring the Honeywell Primus Epic Electronic Flight Instrument System (EFIS) suite.
This page lists all films and videos that feature the Embraer ERJ 170/175.
See also
Pages in category "Embraer ERJ 170/175"
The following 19 pages are in this category, out of 19 total.