Category:Fokker F.IV
Jump to navigation
Jump to search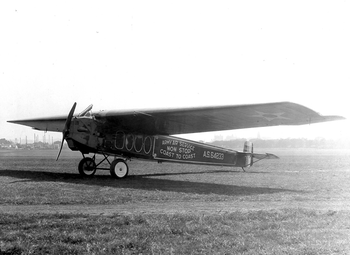 The Fokker F.IV was an airliner designed in the Netherlands in the early 1920s, with only two ever made, both for the United States Army Air Service. It was constructed in typical Fokker style, as a high-wing cantilever monoplane with fixed tailskid undercarriage. The pilot sat in an open cockpit alongside the engine in the manner of the Fokker F.III, while a cabin inside the fuselage could seat 12 passengers. Built at Fokker's factory at Veere and flight-tested by Anthony Fokker himself, the two aircraft were crated and shipped to the United States where they were assembled at McCook Field and given the designation Fokker T-2. Despite Fokker's hopes that increasing airline passenger numbers would create interest in aircraft of larger seating capacity, the F.IV was too large for the needs of contemporary airlines, and no further aircraft were sold.

This page lists all films that feature a variation of the Dornier Fokker F.IV.
See also
Pages in category "Fokker F.IV"
The following 3 pages are in this category, out of 3 total.