Category:McDonnell Gemini Capsule
Jump to navigation
Jump to search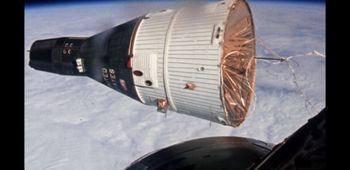 Project Gemini was the second human spaceflight program of NASA, the civilian space agency of the United States government. Project Gemini was conducted between projects Mercury and Apollo, with ten manned flights occurring in 1965 and 1966. NASA selected McDonnell Aircraft, which had been the prime contractor for the Project Mercury capsule, to build the Gemini capsule in 1961 and the first capsule was delivered in 1963. The spacecraft was 19 feet long and 10 feet wide with a launch weight of 8,490 pounds. The Gemini capsule first flew with a crew on March 23, 1965.
This page lists all films that feature the McDonnell Gemini Capsule.
See also
Pages in category "McDonnell Gemini Capsule"
The following 7 pages are in this category, out of 7 total.