Category:R-7 family of rockets
Jump to navigation
Jump to search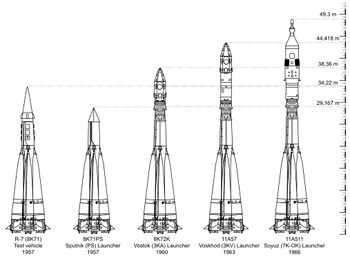 The R-7 (cyrillic : Р-7) family of rockets has an unique configuration where four break-away liquid-fueled engines surround a central core. The core acts as, in effect, a "second stage" after the other four engines are jettisoned in a figure named the Korolev cross. All Soviet and later Russian human spaceflights were the fruit of launches of one of these derivatives : Vostok, Voskhod and Soyuz rockets.
This page lists all films that feature a variation of the R-7 family of rockets.
See also
Pages in category "R-7 family of rockets"
The following 7 pages are in this category, out of 7 total.