Category:SNCASE SE.161 Languedoc
Jump to navigation
Jump to search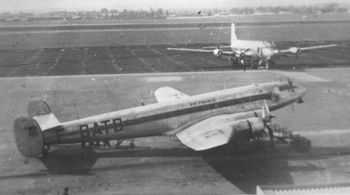 The SNCASE SE.161 Languedoc was a French four-engined airliner produced by SNCASE (Sud-Est). Developed from the Bloch MB.161 designed by the team of Jean Béziaud just before the outbreak of World War Two, the SE.161 was the spearhead of French aviation industry in 1945. Despite difficulties of the post war years (lack of manufacture, workforce of poor quality, design a bit old) the type was elected by the governement to be the proud of the rebirth of commercial aviation industry. Despite strong opposition of numerous second hand US transport aircraft and more modern types of British and US four engines aircraft, French Governement made wild promotion and hoped Air France and French Air Force could order a great number. The first engine type (Gnôme-Rhône 14N 44 & 45) were source of troubles. In service with Air France, the French airline company made quickly the choice to switch to Pratt & Witney engines. Eventually, the 40 airframes proved to be efficient during eight years and Air France has loaned some of them to Air Transport, Air Atlas and Tunis Air. Export sales were registered with LOT, Air Liban, Misair and Aviacion y Comercio. If the French Air Force was reluctant to use its 35 airframes, the French Navy had made good use of its 29 Languedoc. The type has too a long life dedicated to trials for aviation manufacturers or the Centre d'Essais en Vol (C.E.V. / Flight Research Establishment) especially for the Leduc 010 ramjet aircraft and derivative family.
From the end of 1939 to VE Day, only five prototypes were build which vanished in the war's torment. After summer 1944, one hundred airframes were built and used until 1965. No airframe was preserved.
This page lists all films that feature the SNCASE SE.161 Languedoc.
See also
Pages in category "SNCASE SE.161 Languedoc"
The following 15 pages are in this category, out of 15 total.