Daigo Fukuryu-Maru
Jump to navigation
Jump to search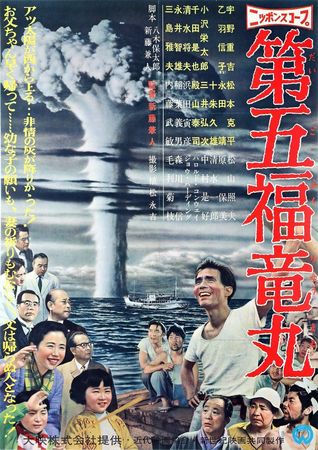 Movie (1959)
Japanese title : 第五福竜丸
English title : Lucky Dragon No. 5

Starring:
Guy Madison (Brett Matton, aka Brett Murphy)
Virginia Mayo (Jean Gurney)
George Raft (Stafford)
Ilona Massey (Mme. Galli-Cazetti)

A Japanese fishing boat, Dai-go Fukuryū Maru ("Lucky Dragon No. 5") sets out from the port of Yaizu in Shizuoka Prefecture. It travels around the Pacific, line fishing. While the ship is near Bikini Atoll, the ship's navigator sees a flash. All the crew come up to watch. They realize it is an atomic explosion, but take the time to clear their fishing gear. A short time later, grey ash starts to fall on the ship. By the time the ship returns to port, the sailors have been burned brown.
Registration LN-MOE, c/n 44933 in the foreground.
Same aircraft in other movies at IMPDb: Frequently Seen Aircraft (Civil Fixed-Wing).

Back To:

See also