Category:Douglas C-124 Globemaster II
Jump to navigation
Jump to search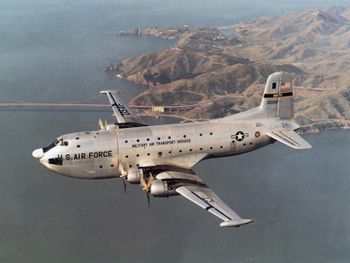 The Douglas C-124 Globemaster II, nicknamed "Old Shakey", was a heavy-lift cargo aircraft built by the Douglas Aircraft Company. It was developed from a prototype created from World War II-design Douglas C-74 Globemaster and based on lessons learned in the Berlin Airlift. The C-124 was the primary heavy-lift transport for United States Air Force Military Air Transport Service (MATS) during the 1950s and early 1960s until the C-141 Starlifter entered service. It served in MATS, later Military Airlift Command (MAC), and in units of the Air Force Reserve and Air National Guard until 1974.

This page lists all films that feature a variation of the Douglas C-124 Globemaster II.
See also
Pages in category "Douglas C-124 Globemaster II"
The following 25 pages are in this category, out of 25 total.