Category:Tupolev Tu-104
Jump to navigation
Jump to search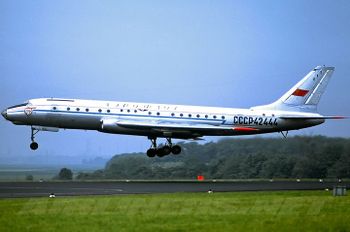 The Tupolev Tu-104 (NATO reporting name: Camel) was a twin-engined medium-range turbojet-powered Soviet airliner and the world's first successful jet airliner. Although it was the fourth jet airliner to fly (following, in order, the British de Havilland Comet, Canadian Avro Canada C102 Jetliner, and French Sud Caravelle), the Tu-104 was the second to enter regular service (with Aeroflot) and the first to provide a sustained and successful service (the Comet had been withdrawn following a series of crashes due to structural failure). The Tu-104 was the sole jetliner operating in the world between 1956 and 1958. About 200 airplanes had been built by 1960.

This page lists all films that feature a variation of the Tupolev Tu-104.
See also
Pages in category "Tupolev Tu-104"
The following 67 pages are in this category, out of 67 total.