Category:Beechcraft Bonanza
Jump to navigation
Jump to search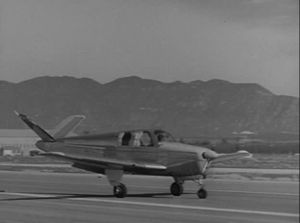 The Beechcraft Bonanza is an American general aviation aircraft introduced in 1947, produced as Model 33 and Model 35 with V-tail, and as Model 36 with conventional tail, replacing the Beechcraft Debonair (itself a development of the V-tail Bonanza). As of 2010, it is still being produced by Hawker Beechcraft and has been in continuous production longer than any other airplane in aviation history. More than 17,000 Bonanzas of all variants have been built.

This page lists all films that feature a variation of the Beechcraft Bonanza.
See also
Pages in category "Beechcraft Bonanza"
The following 69 pages are in this category, out of 69 total.