Category:Junkers Ju 52
Jump to navigation
Jump to search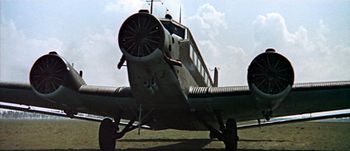 The Junkers Ju 52 is a three-engined passenger and freight transport aircraft. The first seven airframes were in fact fitted with a single engine but were uderpowered. From 1932, all the airframes were powered by three BMW 132 radials. It was used in both civilian and military service from 1931, through till the 1980s. 516 airframes were built in France when the factories were ruled by German occupation forces. After the war, France continued the production until 1947 for its own military and civil needs, building 400 aircrafts then named A.A.C. 01 Toucan (A.A.S. -alias Ateliers Aéronautiques de Colombes- later merged wth Amiot). In Spain, CASA built 170 CASA 352 but by lack of the original BMW engines, replaced them by spanish licensed products. They flew until 1974. Most of the eight flyable airframes to date are former Spanish manufactured aircrats.
4 845 Junkers Ju 52 of all types were built.
This page lists all films that feature a variation of the Junkers Ju 52.
See also
Pages in category "Junkers Ju 52"
The following 116 pages are in this category, out of 116 total.